Prepare your ERC applications!

Helping researchers prepare for the various stages of the ERC Starting, Consolidator and Advanced grant schemes; exploring the possible effects of gendered language in grant writing; and highlights from the literature – a few of the items in our newsletter before we're off for the summer. Enjoy!
The Elevate team
We are engaging in a variety of efforts pertaining to grant applications for the European Research Council (ERC):
We are providing editorial support (feedback and substantive editing) for applications for ERC Advanced Grants (deadline end-August). Check out our blog post from last year for some tips on acing the ERCs.
In the coming months, we will train several researchers in advance of their interviews for ERC Consolidator Grants. We will help with the narrative, design as well as the delivery of the presentations. See our post from last year for some tips (originally published in Research Professional).
We will also hold an open workshop to guide those interested in applying for ERC Starting Grants (see details below).
Open workshop on ERC Starting Grant applications
Competition for ERC funding is fierce. To maximize your chances of success, it is vital that you have an ambitious, ground-breaking research programme and a clear, concise, coherent and compelling proposal.
Join us in Malmö on August 26 to learn best-practice strategies for planning and writing applications for funding from the ERC Starting Grant scheme.
The EU has partially approved the shape and preliminary budget of Horizon Europe
, the research programme following H2020, to the tune of 107 billion Euro. Some of the highlights are: increased funding for ERC, MSC actions and EIT; the launch of a new European Innovation Council (EIC); the new concept of 'missions' in the areas of climate change; cancer; oceans and other waters; smart cities; soil and food.
A recent study
provides evidence for the prevalence of various types of sexual harassment in physics, and how this predicts a negative sense of belonging and exacerbates the imposter phenomenon, which likely has a negative impact on the persistence of women in the field.
Citation-based metrics are no longer adequate for measuring academic performance, according to two researchers who
analysed >120 million papers
to explore the changes in academic publishing during the past century.
A Nature World View column
last week advocated for a new publishing model whereby open-access costs would be met via competitive grants to publishers, instead of authors' fees. According to the author, this system would do away with the incentives that tempt some journals to publish low-quality or fake science.
"A singularity of writing science notions! Be ready to be pulled in!"
– Gabriele Pozzati, Department of Biochemistry and Biophysics, Stockholm University
 "Thorough and focussed advice from preparing to presenting. I will use this in all presentations to come!"
– Matthew Hargrave, Department of Marine Sciences, The University of Gothenburg
In the beginning of May we were pleased to deliver workshops at two beautiful venues. The first one, on scientific writing and publishing, was given at the annual meeting of the National Graduate School in Medical Bioinformatics, at Varbergs Kusthotell. The next day we travelled to Tjärnö, a picturesque island off the west coast of Sweden, to deliver a workshop on presentation techniques at the Sven Lovén Centre for Marine Sciences. Both workshops were very interactive, with interesting discussions and very happy participants (the two workshops received average ratings of 4.9/5 and 4.8/5, respectively).
Congratulations to Murray Scown and colleagues on publishing their research in the Proceedings of the National Academy of Sciences (PNAS). The paper provides a method for assessing the differing perspectives on agricultural systems in research, policy and practice. The authors find a limited set of variables that are common to perspectives from these three areas: these variables, the authors suggest, should form the basis for future research that is more relevant to policy and practice, and can guide agriculture's contribution to the Sustainable Development Goals. We are pleased to have supported the authors via detailed feedback and in-depth editing of the pre-submission manuscript.
(Don't) mind your language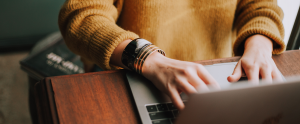 The choice of words used by women may have disadvantaged them during the evaluation of their grant applications despite a blinded process, according to a recent analysis of applications submitted to the Gates Foundation's Global Challenges: Exploration (GCE) programme. This is the first study of its kind to explore the role of gendered language in grant applications; although it has not undergone peer review, its findings are nevertheless an interesting addition to the knowledge of direct/implicit gender bias.
Our latest blog post takes an in-depth look at the study's findings, contextualizes them and explores the implications.